Executive Director / Dr. Tracy L Gunn Ministries
Dr. Tracy L. Gunn Ministries, Inc.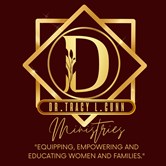 About Me
Dr. Tracy Gunn is the Executive Director & Founder of the Faith Based organization Dr. Tracy L. Gunn Ministries. She is currently employed with the 16th Circuit Judiciary System in Kansas City MO. whereby she conducts a 21st Century Leadership group -"Equipping the Marketplace Leaders". She holds Doctorate degree(s) in the following areas: Education and Psychology, Master's Degree in Counseling, Bachelor Degree in- Business Administration with emphasis in Business Law.
She is a Board Certified Family Therapist and CPS (Certified Peer Specialist). And a member of the
following Faith Based Association(s): Scriptural Psychology Therapists and American Missions Teams.
Dr. Tracy has over 27yrs. experience working in the Faith Based and Not-for- profit arena. Using her organizational & operational skills Dr. Gunn has partnered with numerous Faith Based Organizations, Community Outreaches, including Grass-root organizations and Local businesses in order to provide resources, trainings, faith-based programs, life enrichment seminars and symposiums for women, at-risk- youth and families.